Cliff Peninsula

About
Type
Geographic Feature
Location
Between Tropics
and Snow Peninsula
Music

Wood Types
None
Max Trees
Unknown
Map
[View]
The Cliff Peninsula is a geographic feature located between the Tropics Biome and the Snow Peninsula. The Cliff Peninsula is part of the Ocean Cove and the Tropics Bay.
Geography
The Cliff Peninsula is very similar to the Snow Peninsula, as they're both from the Ocean Cove, and they both slowly descend slowly into the ocean. The Cliff Peninsula is almost never visited, as it is extremely challenging to get there, and that a lot of players do not know about the Cliff Peninsula, and the reason for that is because it is very unclear and hard to see.
History
The Cliff Peninsula and the rest of the Tropics Biome did not exist before, however, the Snow Peninsula for some reason did exist in the game for an unknown reason. It's most likely there so that you wouldn't see the void as easily, however now it's strongly believed that the Ocean Cove which is made from The Cliff Peninsula, and the Snow Peninsula will contain a biome accessible from the Taiga Mountain Passage or from boats which may be released in a future update.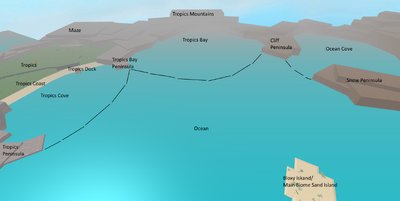 Ad blocker interference detected!
Wikia is a free-to-use site that makes money from advertising. We have a modified experience for viewers using ad blockers

Wikia is not accessible if you've made further modifications. Remove the custom ad blocker rule(s) and the page will load as expected.