Fancy Furnishings
About
Location
Safari
Music

Specialty
Furniture, Lights, Glass panes, Blueprints,Fireworks
Map
[View]
Fancy Furnishings, referred by some players as ' F.F ' is a furniture and glass store located in the Safari biome, across the Boxed Cars store. The owner of the store is Corey. The building is in good condition, unlike Bob's Shack. Fancy Furnishings has the largest diversity of items in the game. It is the largest artificial structure in the game. The store is located in the Safari plaza. Like Boxed Cars, this shop closes during the night and opens back up in the morning. The store clerk also appears to fall asleep inside the store. If the player stays long enough until the store closes, they will remain inside, though if they click 'E' on the door knob, the door will open. Once they exit, they will be kicked out until the store reopens.
The store is also similar to Wood R Us located to the Main Biome, however, this shop is specifically good as you do not have to use Blueprints to make furniture. However, some of the items may be costly. It is possible to quicken up shopping using a Utility Truck from Wood R Us and driving it into the store, stopping right in front of Corey.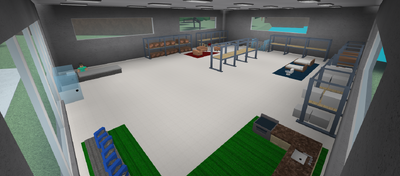 Stock
Glass panes
| Name | Price |
| --- | --- |
| Thin Cabinet | $160 |
| Kitchen Cabinet | $160 |
| Kitchen Cabinet Corner | $160 |
| Wide Kitchen Cabinet Corner  | $160 |
| Thin Countertop | $220 |
| Countertop | $220 |
| Countertop with Sink | $220 |
Furniture
Miscellaneous
2015 Christmas Event (No longer for sale) *
2016 Winter Event **
2016 Christmas Event (No longer for sale) ***
Ad blocker interference detected!
Wikia is a free-to-use site that makes money from advertising. We have a modified experience for viewers using ad blockers

Wikia is not accessible if you've made further modifications. Remove the custom ad blocker rule(s) and the page will load as expected.