Fine Arts Shop
About
Location
In The Maze
Music
Melodie Victoria - Kevin MacLeod
Specialty
Paintings
Map
[View]
The Fine Arts Shop is a store found inside The Maze.
The Fine Arts Shop is owned by Timothy.
Currently, the shop only sells three items, named Title Unknown, Disturbed Painting, and the Outdoor Watercolor Sketch. The paintings are used only for decoration.
This is one of the 2 shops that have never had any collectible items for sale, the other being Link's Logic.
It should also be noted this shop sells the cheapest item in the game, the Outdoor Watercolor Sketch.
Design
The Fine Arts Shop interior features a yellow-ish cobblestone floor and grey brick walls, as well as lightbulbs falling from the stone ceiling. The counter is located near the right of the center of the shop. Next to it is a box containing all of the paintings available. Paintings are also placed on the grey brick wall.
Speculation
It is believed that the purpose of the Fine Arts Shop is to send photo-art to Defaultio and it is possible that he may include your portrait into the Fine Arts Shop for sale.
Paintings For Sale
Gallery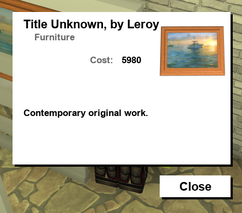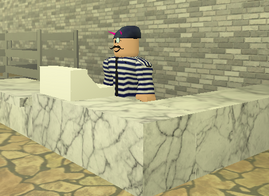 Ad blocker interference detected!
Wikia is a free-to-use site that makes money from advertising. We have a modified experience for viewers using ad blockers

Wikia is not accessible if you've made further modifications. Remove the custom ad blocker rule(s) and the page will load as expected.