Glass Panes
, often referred to as "Windows", are objects sold at
Fancy Furnishings
. Glass Panes come in five different sizes, including the Glass Door. All of these objects are translucent, meaning the player can see through them but are still visible. They all share the same thickness, which is relative to the thickness of a tile. Glass Panes are used as building material. The color of the Glass Panes cannot be changed and remains light blue all the time. Unlike most furniture and blocks, these panes are not created using blueprints. Instead, it is a single-use item that can't be created with wood. This makes glass quite expensive, in addition to the fact that it can be annoying to get over and over again. This also makes it a liability to get, due to the possibility of disconnection.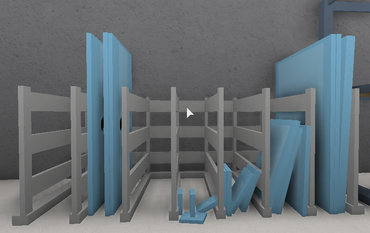 | Name | Price | Size |
| --- | --- | --- |
| Large Glass Pane | $550 | 8x0.2x8 |
| Glass Pane | $220 | 4x0.2x4 |
| Small Glass Pane | $50 | 2x0.2x2 |
| Tiny Glass Pane | $12 | 1x0.2x1 |
| Glass door | $720 | 8x0.2x4 |
Ad blocker interference detected!
Wikia is a free-to-use site that makes money from advertising. We have a modified experience for viewers using ad blockers

Wikia is not accessible if you've made further modifications. Remove the custom ad blocker rule(s) and the page will load as expected.