This character exists solely within the game files and cannot be accessed through normal means.
Lumberman
About
Location
Game Files, Game Thumbnail
Apparel
Crazy Game Dev Hair and Antlers, w/ Red Plaid and Black Pants, Shiny White Shoes, and Wrenchpack
Speciality
Thumbnail, N/A
Other Attributes
Hardened Axe with low vertex/Steel Axe (see Lumberman's Axe heading)

Lumberman is the NPC that appears on the Lumber Tycoon 2 Thumbnail, and he is exclusively found within the game's files. If one were to move Lumberman from Lighting to Workspace, they'd notice that Lumberman actually has dialogue. Lumberman's dialogue is identical to Thom's, Jenny's and Corey's dialogue.
Apparel
Lumberman can be seen wearing the traditional Silverthorn Antlers along with the Crazy Game Dev Hair, Red Plaid Shirt with Bandages, Black Pants with White Shoes and a Wrenchpack. Lumberman has the Robloxian 2.0 Package and a constant un-dead like smile.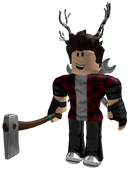 Thumbnail
Lumberman is the main and only star of the Lumber Tycoon 2 Thumbnail, seen holding a Steel Axe against him with some lumber beside him in front of the Main Biome.

Lumberman's Axe
In the game files, Lumberman can be found along with an axe slightly different from the Steel Axe used in the thumbnail, but very similar to the Hardened Axe used in-game. The name of this axe has, however, been coined Lumberman's Axe.
Lumberman's Axe design is identical to the Hardened Axe if you exclude the VertexColor, which is changed to be slightly darker than the Hardened Axe.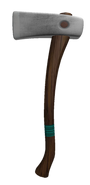 Ad blocker interference detected!
Wikia is a free-to-use site that makes money from advertising. We have a modified experience for viewers using ad blockers

Wikia is not accessible if you've made further modifications. Remove the custom ad blocker rule(s) and the page will load as expected.