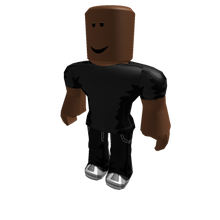 Rayden
is an NPC character featured to the left side of The Maze. Similar to Geck, seems very casual-looking. His appearance is of a black T-shirt and black jeans. He has dark-brown skin and seems to be strangely happy-looking. His purpose is most likely to warn players of getting lost and not finding their way out, because of his dialog.
Dialogue: "Watch out fellow person, some say people lose their souls in these caverns."
Modeled by: OfChrist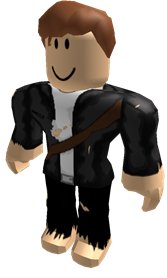 Slam
is an NPC character featured to the left side of the entrance of
The Maze
. His appearance is of a white T-Shirt with a black jacket, black tattered jeans, and a backpack strapped to him. He also has brown hair. Like Geck, Slam was most likely named after his modeler, Faceslam8025.
Slam's purpose is unknown and very spooky to many players because he faces the end of a long corridor in The Maze. Most speculate that he is deranged, or that he will serve a terrifying purpose in the future.
Dialogue: "Heh Heh..."
Modeled by: Faceslam8025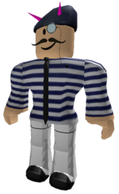 Timothy
is currently the only shop-owner featured in
The Maze
. He owns
Fine Arts Shop
. His appearance is a french artist, a black tie, a black and white shirt, a black cap, a monocle, a mustache, and tan jeans. He's very casual looking and very polite store-owner.
It's unknown as to why Timothy set up his shop in The Maze.
Ad blocker interference detected!
Wikia is a free-to-use site that makes money from advertising. We have a modified experience for viewers using ad blockers

Wikia is not accessible if you've made further modifications. Remove the custom ad blocker rule(s) and the page will load as expected.