The Menu is a crucial part of Lumber Tycoon 2 that offers several different features required to play the game.

The Menu is found as a white box with the word Menu in the center-top of the screen. Once opened, there will be several different options that allow you to enhance your experience on this game. There are eight different options in the Menu: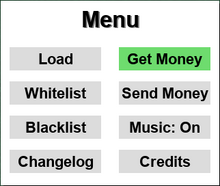 Music On/Off
Here is a table explaining these features of the Menu:

| Load | This is one of, if not the most important feature of the whole game. This is used to save and manually load data slots. The maximum number of data slots is 4. Sometimes when lagging, clicking "Load" won't do anything and just stay in the Menu. Once lagging has stopped, exit the menu, enter it, and click "Load" again for it to work. |
| --- | --- |
| Whitelist | This feature of the Menu allows you to 'Whitelist' players, meaning that players on this list have the ability to edit and change your land in almost any way. Be cautious when doing so! |
| Blacklist | This is essentially the opposite of whitelist; players on this list will not be able to enter your land boundaries. This is meant for blocking players that are harassing you, or if you don't want to be distracted. |
| Changelog | The changelog is a list of updates and bug fixes that shows updates of the game from the day it opened until now. It is to be noted that the Halloween Update is not on this. |
| Get Money | The 'Get Money' feature allows the player to buy a certain selection of money for a certain amount of Robux. This box is highlighted green, probably to attract attention. |
| Send Money | This feature of the Menu allows you to send any amount of money to any selected person. Essentially a donation system. Note: If this feature does not work you must exit the menu then go back in. |
| Music On/Off | This button toggles whether or not music will play. Does not affect sound effects. |
| Credits | The credits is a list of contributors, music, etc. Used in the creation of the game. |
Ad blocker interference detected!
Wikia is a free-to-use site that makes money from advertising. We have a modified experience for viewers using ad blockers

Wikia is not accessible if you've made further modifications. Remove the custom ad blocker rule(s) and the page will load as expected.