Rocks and Cliffs are natural geographic features found throughout the entirety of Lumberland.
These features of Lumberland are rectangular in shape and are often really tall. They are made of the 'slate' material. Rocks and Cliffs are brown and often pile up on each other, becoming higher, denser, and taller as they reach up to the Volcano. This most likely means that these rocks are part of the Volcano and/or old lava flows. Thus, if this is true, every rock and cliff on the game is considered part of the Mountainside.
There are many 'dugouts' in these rocks; for example, the Cherry Meadow Is located in a dip in the mountainside, the Taiga Biome is surrounded by high cliffs, and the Swamp is nestled in a deep pit in the mountain.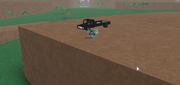 There are also many anomalies within these rocks and cliffsides. Here is a list:
Ad blocker interference detected!
Wikia is a free-to-use site that makes money from advertising. We have a modified experience for viewers using ad blockers

Wikia is not accessible if you've made further modifications. Remove the custom ad blocker rule(s) and the page will load as expected.