Sweet Gift
Gift

Unboxed
Boxed
About
Location
Was at Wood R Us
Cost
Was $6,000 Money
Avg User Price
Unknown
Type
2016 Gift
Usage
Unknown
In-game Description
"Hm, sweet!"
[View]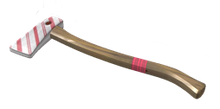 The Sweet Gift was released on December 11th, 2016 and was one of the six 2016 Christmas gifts introduced to the game. It was sold at Wood R Us for $6,000 Money before Christmas Day. This gift was on the same shelf as the Turkey. The gift, when unwrapped, reveals a boxed Candy Cane Axe. The Candy Cane Axe currently has no use.
Obtaining
The Sweet Gift could be found in Wood R Us in the Main Biome. In order for the player to purchase the Sweet Gift, they needed $6,000 Money. After, they must walk to the rear of the Wood R Us and locate the shelf nearest to the Wood Drop-off machines. On that shelf, two items would be found; the Hardened Axe and a row of Sweet Gifts. Once brought to the counter, the player could purchase the gift from Thom. It is now unobtainable and can only be bought from other players.
Ad blocker interference detected!
Wikia is a free-to-use site that makes money from advertising. We have a modified experience for viewers using ad blockers

Wikia is not accessible if you've made further modifications. Remove the custom ad blocker rule(s) and the page will load as expected.