The Vehicle Spawner, or the Vehicle Spot, is where you can spawn a vehicle. The player will need a plot of land if they want to place it down. Vehicle Spawners can be bought at the Wood R Us (for the Utility Vehicle) and Boxed Cars (for all other vehicles and trailers). Other players also use Vehicle Spawners as walls or flooring.
The vehicle spawners have white angles on the corners, an orange button in the front, and the rest of the spawner is in the Plank material. If the orange button is pressed, the vehicle of that spawner will spawn. When the vehicle is bought and placed down for the first time, a vehicle will already be spawned.
The size of the Vehicle Spawner depends on the size of the vehicle. In addition, the price to spawn a vehicle will differ from each other. Using a vehicle spawner has a 1 in a 650 chance to spawn a
pink vehicle
.
How to Move/Destroy the Vehicle Spawner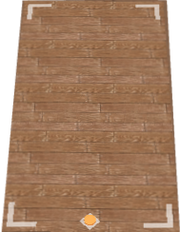 If a player wants to move a Vehicle Spawner, hover over it with the mouse and press the letter "E" on the keyboard. Once "E" is pressed, the menu will appear on the screen.
It will look similar to the picture to the right. Once it appears, click Move, and move it around. Then, press "E" wherever the player so chooses to place it.
To destroy a vehicle spawner, do the steps again. Instead of clicking move, click destroy.
Vehicle Colors (Trucks and Trailers):
Silver
Grey (#8D8D8D)
Dark Orange
Tan/Beige
Light Brown
Black
Dark Green
Quicksand (#BE8F82)
Hot Pink
Mint Green
Maroon
There is a lime green colored vehicle on the cover of the game. However, there haven't been any reports of this color spawning on trucks. In addition, when spawning a Sleigh it will not be a different color, other than red.
Ad blocker interference detected!
Wikia is a free-to-use site that makes money from advertising. We have a modified experience for viewers using ad blockers

Wikia is not accessible if you've made further modifications. Remove the custom ad blocker rule(s) and the page will load as expected.