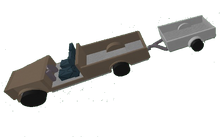 Trucks, also called Cars, are machines that can be steered by the player. The smaller the truck is, the faster it tends to go.
A feature that is not known with the playerbase is the ability to toggle the truck's headlights by pressing L (for the PC platform).
Trailers
Trailers are cargo extensions to trucks. Note that it cannot be controlled; it follows the same direction the truck goes when hitched. It can be hitched to a truck or another trailer by connecting its front hitch (V-shaped) to the small ball hitch located at the rear-end of any truck or trailer. If the a trailer is hitched, it may be unhitched as well.
Item Image
Name
Cost
(Money)
Respawn
Cost
Store
Description

Small Trailer
$1,800
$36
Boxed Cars
"For all your smaller trailer needs! Hitch it up to any truck with a ball hitch."

531 Hauler
$13,000
$260
Boxed Cars
"Featuring a tailgate and bogie suspension, this trailer will serve you humbly."
Christmas 2016 Gifts (no longer purchasable)

Sleigh
$32,000
$2,000
Boxed Cars
"JINGLE JINGLE DO YOU HEAR THAT?"
The Wobbles are loose items that can be hitched at the ball hitch at the rear-end of a truck or trailer. When hitched, it will bobble around the ball hitch of the truck or trailer, and ensures that the vehicle will land on its wheels when driving down steep cliffs. It can be unhitched whenever desired as well.
Vehicle Respawning and Colors
A vehicle can only be spawned in its spawner, and nowhere else. The spawner of a vehicle can be obtained by opening the box of the vehicle. It is seen with the plank material, with four, white L-shaped designs found on its edges. Its most essential part is the short, orange cylinder found centered on the assumed front part, which when interacted with, will spawn a vehicle and costing the player the fee for respawning.
When placing a vehicle for the first time, or respawning, the vehicle may spawn in its spawner with the following colors listed below:
Medium Stone Grey
Dark Red (Maroon)
Sand Red
Sand Yellow Metalic
Lemon Metalic
Gun Metailic
Earth Orange
Earth Yellow
Brick Yellow
Rust
Really Black
Faded Green
Sand Green
Black Metalic
Dark Grey Metalic
Dark Grey
Silver
Mid Grey
Hot Pink (1/500 chance to be spawned)
Please note that these are web colours, it might show slightly different in ROBLOX.
Ad blocker interference detected!
Wikia is a free-to-use site that makes money from advertising. We have a modified experience for viewers using ad blockers

Wikia is not accessible if you've made further modifications. Remove the custom ad blocker rule(s) and the page will load as expected.