Wood Dropoff
About
Type
Acid Pit; Processing Station; Wood Selling Area
Location
Next to Wood R Us
Music
Main Biome music
Wood Types
None
Max Trees
Unknown
Map
[View]
The Wood Dropoff is the only place in the game you can sell planks and logs of wood for automatic profit instead of the capitalistic trading system among players. You can also sell the Land Sign when you first start your land property. You cannot sell any other items here except logs, planks, and signs.
The Wood Dropoff has two Conveyor with 5 surrounding yellow "caution" posts, as well as green particle emitters and a bright green bottom, resembling a pit of acid, but doesn't affect a player. When anything is sold at the drop-off, the wood automatically disappears and the owed money is sent to the player's balance.
It has two entrances for two players to sell their wood at the same time. You can also use the Val's All-Purpose Hauler and 531 Hauler tailgates to back up into the conveyor and have it automatically unload itself. However, this is only available with these two vehicles.
Additional Details
The Wood-Dropoff also has the "Collect Ticket Inside" sign facing backwards into the wall, to the left. It's unknown as to what this purpose actually is, but it's speculated it's supposed to be an upcoming feature or an old clue to The Ferry.
The Dropoff stretches inside with ropes surrounding it, and a pit of sand in the back-right corner of the store, featuring a paper for the Rukiryaxe Quest.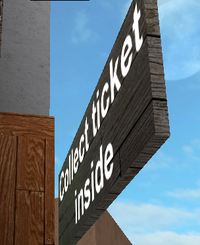 Ad blocker interference detected!
Wikia is a free-to-use site that makes money from advertising. We have a modified experience for viewers using ad blockers

Wikia is not accessible if you've made further modifications. Remove the custom ad blocker rule(s) and the page will load as expected.